Fitbit Charge 2 is very handy when it comes to keeping track of your workout but expect that it is not a "smartwatch".
There is much that has improved compared to its predecessor the Fitbit Charge HR. The most obvious is that the screen has grown to four times larger. It makes it easy to see the icons, which are nicely animated and reading of the statistics directly in training the bracelet. Text and icons are also very bright, so you have no problem seeing the information even when the Sun is shining on. One drawback, however, is that your screen likes to pick up dirt from your fingers.
Charge 2 is no, the Fitbit themselves insist on claiming, even a fashion accessory, but it is certainly not ugly. The look is understated futuristic and there's not much to complain about when it comes to the design, in addition to the possibly that it is relatively thick, which one notices when you have long sleeves on otherwise is it comfortable to wear on the wrist and the excellent accompanying band makes everything sitting safely (unlike, for example, Sony Smartwatch 2's wrist structure). It is important to choose the right bracelet size of the three offered because the fit affects how exactly it can keep track of your heart rate.
The screen is not exactly what you would call for a touch screen but it is interactive. Knack screen is the expression that best fits as scrolling between sub-categories (if they exist) by tapping on the screen. It works for the most part good, however it happens sporadically to tap an additional time to react. Main menus switch by pressing the training arm of strap button, and it is also in when to activate a function, simple and smart.
Very good app
Charge 2 is quite rudimentary in itself because it's very integrated with Fitbits app. it is where your training sessions are given a context. One can say that the training the bracelet stands for facts collection, number of steps, your heart rate and so on, while the app is the one who interprets the information and make it relevant to you in a larger context. In the app you will get, among other things, figure out how much calories you burn over time and if you reach your fitness goals. It also tells us, among other things, how you sleep. There is also an advanced measurement using data collected over time and then calculate your overall aerobic fitness, a measure which otherwise tend to be tested on top sportsmen in laboratories (vo2 max test). It is clear that Fitbits version will never be as accurate as an expensive test where you are connected to the majority of measuring instruments at the same time as you run you to death on a treadmill with an oxygen mask strapped to his snout. But I believe that Charge 2 's method of measurement despite it is sufficiently accurate to provide an overall measure of your overall fitness level.
The app is very educational and easy to use. It will guide you through what kinds of exercise, diet and weight goal to put up and also your progress in a good way. However, you get a little excited by the numbers and stats if you want to get the most out of the app, but if you are like me so it also suffices just fine as a faster summary without having to get bogged down in all the available details. The app and the bracelet is also good to remind you that you should move around, as well as to reward you when you reach the milestones, such as with a small vibration on the arm and fireworks on the screen. It may sound ridiculous but both features actually makes a big difference when it comes to how much you turn you every day and you get a sense of satisfaction when you get your reward, even if it may seem a trivial one.
Mindfulness
If there is anything I hate, it's to package the well-known phenomenon of the new hip terms. Mindfulness is one such term. Actually, it is a matter of common sense and recognized best practices, like breath control. Anyone who has been involved in martial arts, meditation, or weight lifting, for that matter, know that breathing is an important part of how to perform and how well it will calm down. Charge 2, like new Apple Watch Series 2 (launched after Charge 2), an integrated breathing exercise that will help you to relax it works surprisingly well, given how simple the bracelet uses to guide you. On the other hand, it feels strange situation that a vibrant technological training arm band with the help of screen instructions are there to help us find inner calm, but it says more about the modern society than on Charge 2.
In the app you can find also two special features, a social and a "inspirationsbaserad". The latter is called Adventures and can be described as a half-AR/VR-function. To choose a hiking trail, which in most cases is not near your place on Earth, and then correspond to the steps you take in your life, the amount of steps you take virtual on the hiking trail. When you reach the final destination in the app and you'll "see you around", either in a 360-version on your phone or with a Google Cardboard to give a little more sense. A completed case locks in turn up a new goal that requires that you take even more steps to get there. I personally did not give Adventures so much. To look around in Vernal Falls while standing on the way to Bredängs Metro station is a little too much urban reality versus virtual nature for me to be able to indulge me. But there are certainly people who spurred by the idea of seeing the places they probably will not visit for real. The second feature is the challenge. It is possible to challenge the Fitbit-toting friends and family in different ways during different time periods ranging from a day to a week. Even though I think it would spur me, at least for a while, so my problem is that I don't know anyone who has a Fitbit. I'd had it so I think I would use this feature.
The band also keeps track of your sleep cycles if you manage to sleep with it at night (not everyone wants a thing on his arm while sleeping) and it even has a silent alarm that wakes you up with the vibration. How good the latter works, I am the wrong person to comment on because I may be one of the planet's most difficult awakened man (just ask my neighbors who have listened for hours on a multiple Alarm Clock symphony while I effortlessly continued to snore). So I managed to not wake but it might work better for more "normal" sleepers.
Another interesting feature is that Charge 2 automatically detects what kind of exercise you are doing even if you forget to manually start a specific workout. The only problem is that it takes a while before it does so, it may happen that once it takes to you are out bikes, you are already in the process of Park the bike in the bike room. The various training options covers most common as running, weight training and cycling but my favorite is interval training. You can determine the range rules and then reminds you when to start and when to rest without having to think about it myself and fiddle with the timer. What is missing is because Charge 2, unlike the smaller and display resolve Flex 2, is not waterproof but only sweat and rain resistant.
There is no "smartwatch"
In the case of non-health-related functions are Charge 2 something of a disappointment. The company claims for example that it has support for notifications, but I would probably say "support" in this case is a very liberal interpretation. Sure, you get notifications on the screen for calendar and message notifications but, for example, you can only choose to get the latter from one of multiple messaging options. So either it will tell you when you have received a message from Facebook Messanger, or you can choose to leave when someone posted to you via Hangouts. If you now can choose among several options, why is not the ability to have several at the same time? Since the screen displays either not full messages when they are longer (although the lyrics scroll across the screen), and you will receive multiple message in a result so there is no way to view the past directly on the bracelet. As van smartklocka användare, you will also not find ways to control the music on, something that would have been nice in the training context, nor will you be able to push away the incoming calls. That you can't answer them feels more logically and forgivable.
If one accepts that Charge 2 is first and foremost a training aids you can live with not having the above mentioned features. It also can live with, but still will miss, is that the device does not have a built-in GPS. Instead of using the phone, which is better than nothing but means, among other things, worse accuracy. In addition, you have to have on your phone if you want to see how to have will. The only advantage of not having GPS in training the bracelet is that it uses less battery because it is mobile that will take the hit.
The conclusion is thus that for non professional sports people, or those who do not are there but they have ambitions, so are Charge 2 is an excellent choice, as long as you don't plan to have swimming as your main form of exercise. But to believe that it will also replace your smartwatch is to hope for too much.
What specific forms of exercise are there to choose from?
Running, weights, treadmill, workout, bike, interval training and tennis.
What about battery life?
About five days, which is about what I experienced during the test period. Too bad the screen does not have a battery indicator. The information you get via the app and it also sends you an email when it's time to refill.
Is it possible to replace the arm band?
Yes, and it's very easy to do so thanks to a smart attaching structure. Alternative bracelets are available as accessories.
Gallery
Best Fitness Trackers 2018: Activity Tracker Reviews …
Source: www.techadvisor.co.uk
Ecomo: The First Bottle That Tests & Filters Water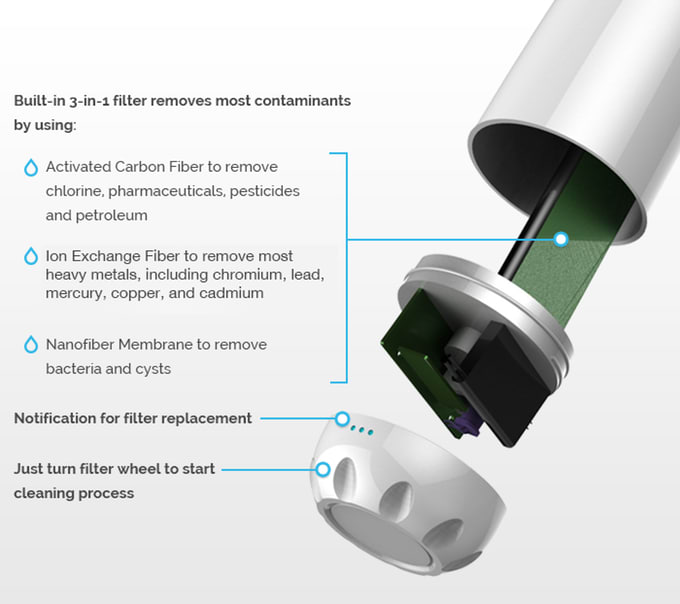 Source: www.indiegogo.com
China 2-Pin Pogo Pin Magnetic Connector with Customized …
Source: top-link.en.made-in-china.com
Distance inaccuracy
Source: community.fitbit.com
Wine Is Coming to Android for Intel Processors
Source: linux.softpedia.com
Test Your Personality By Choosing Colors
Source: www.iclarified.com
Sprint Enhances Family-Friendly Services
Source: news.softpedia.com
How to Revise Successfully: 13 Steps (with Pictures)
Source: www.wikihow.com
Fitbit Charge 2 im Test
Source: www.gannikus.com
Fitbit Charge 2 im Test
Source: www.gannikus.com
Fitbit Charge 2 im Test: Dieser Fitnesstracker lässt Euch …
Source: curved.de
Fitbit Charge 2 im Test. Erfahrungen mit dem …
Source: www.sports-insider.de
Fitbit Charge 2 : Test complet du bracelet connecté qui …
Source: www.objetconnecte.net
Sportivity
Source: www.sportivity.fr
Fitbit Charge 2 : Test complet du bracelet connecté qui …
Source: www.objetconnecte.net
FitBit Charge HR im Test: Fitness-Tracker mit Pulssensor …
Source: www.techstage.de
Test Fitbit Charge 2 : notre avis
Source: www.cnetfrance.fr
Fitbit Charge 2 im Test: Charge me up before you go go …
Source: mobile-reviews.de
Fitbit Charge 2: So sieht das Armband aus
Source: www.computerbild.de
Fitbit Charge 2 : Test complet du bracelet connecté qui …
Source: www.objetconnecte.net